ReBirth Retreat
Be reborn through Movement + Silence + Ritual
Nature Retreat | South of France | 10 – 15 April 2022
Imagine yourself experiencing …
… an ecstatic relaxed connection to yourself, your body, your senses.
… a field of quantum possibility arising from silent presence.
… the deeply nourishing qualities of the simplicity of nature.

If you are looking for a time and space just for you.

If you wish for a special, high frequency land that holds the space for you to
relax, integrate, release, awaken.

Where your body, mind and soul become one.

Where your feminine and masculine sides meet, inside of you,
in sacred union.

A time and space where your life force, creativity, connection and senses all arise to sustain you on your journey.
The ReBirth Holy Days of Substance is for you.
Because you are not looking for more workshops, teachings, methods or retreats to run away from daily life. You
want to fully meet yourself, your potential, your gifts.
You want to land in your body, mind and soul.

Now is the time for the
awakening process you've been through, the ongoing changes in your life and at planetary levels to "fall back together" and integrate inside you.



You feel the call to be ReBorn through the LIGHT inside of you.
Welcome to ReBirth Holy Days of Substance
Welcome to a Soul family of gorgeous humans coming together, in the Sacred
Land of South of France, to share nature, movement, silence and ritual.

Guided by Carolina, and held by the ancient land, during these 5 days
you will experience your multidimensional being and life in a New Earth
way.

Welcome to Lou Rey, the eco-lodge which welcomes those whose wants to grow their Self and their Community in connection with Nature
What is the New Earth way?
You have everything you need.
The simplicity of the container allows your unique Soul frequency to be
expressed and experienced.
Your inner rhythm is honored and respected.
You are the co-creator of this experience.
Substance is crafted in a very simple way, to hold a profound experience of
re-connection to your inner and outer microcosmos.

An intimate circle gathers on Sacred Land, an ancient XIIIth Century fortified farm, dried-rock built, perched on the heights of the Valley Longue. Protected by 39 hectares of pasture and forest, it is crossed by the stream de la Vigne, giving access to natural pools throughout the year : fresh in Summer,  medicinal in Winter.

Sacred fire, cacao ceremony and music rituals take the pulse of the energies moving us. The Sun, Moon, delicious meals and the breathtaking views of the Starry Nights mark the rhythm of our days together.

This is a rare convergence, a vortex of Light : the ancient human origin merges with the timeless cosmic origin of creation.


Let them collide inside of you.
Substance daily program includes :
About the silence of ReBirth
The land that holds us is a unique valley of 39 hectares, where no cars, no
planes and no lights pollute the sacred silence you will be immersed in. This
experience alone is of great relaxation to your nervous system, and
provides the perfect alchemical container for a unique, deeply nourishing experience.

Nights of deep blue sky are portals to our cosmic origin, as we effortlessly fly into the Milky Way as we can experience it at "Réserve internationale de ciel étoilé d'Europe".

The Sun rises and sets painting the landscape with an extraordinary colour palette of yellow, orange and pink, against a spotless clear blue sky. 

Surrounded by sacred Mother Nature, with her transmission of abundance and nourishment, reminding us that we are being taken care of, having everything we need, at all time
Meet Your Guide : Carolina
Carolina is a New Earth Soul Alchemist, born in Argentina, living globally for the past 17 years.

As a intuitive visionary as well as a speaker, writer and international retreat leader, since 2009 Samiel's mission is to open safe and beautiful places for us to remember our creatrive power and key role each one of us play in the transformation of consciousness.

The alchemical journey you experience working with her is entirely informed by Nature's Consciousness. Her work is consecrated to restore the tapestry of Humanity to create a world that is beautiful and feels safe for all to love, thrive and connect, assisting humans to reconnect with their deepest esence.

She's trained and certified in different healing modalities. a passionate reader about everything quantum and a walker of the ancient Mayan Traditional Path since 2010.



Her work and message is not associated with any group, method, dogma or organization. Carolina is a creator and independent channel at the service of the highest Light and Love.

Carolina assists the rebirth of the new Divine Human Being. She is a designer, artist, therapist, teacher, author, and speaker. Currently Carolina lives in a small town in Andalusia, Spain.
Meet Lou Rey's Collective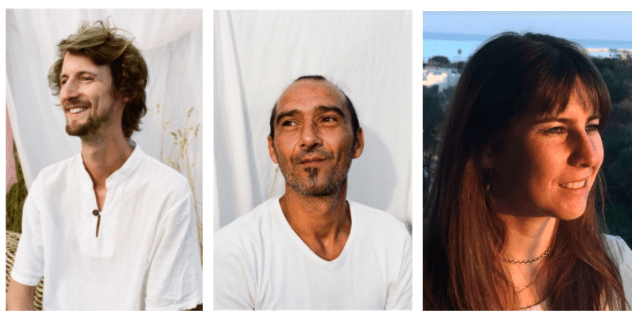 Xouf Guyard, Guardian of Harmony, Reception, Plants and Cleanliness. Davido
Muñoz Hernandez, Guardian of Peace, Construction, Plants and Medicine.
Chloé Moulin, Guardian of Joy, Reception, Communication and Discipline.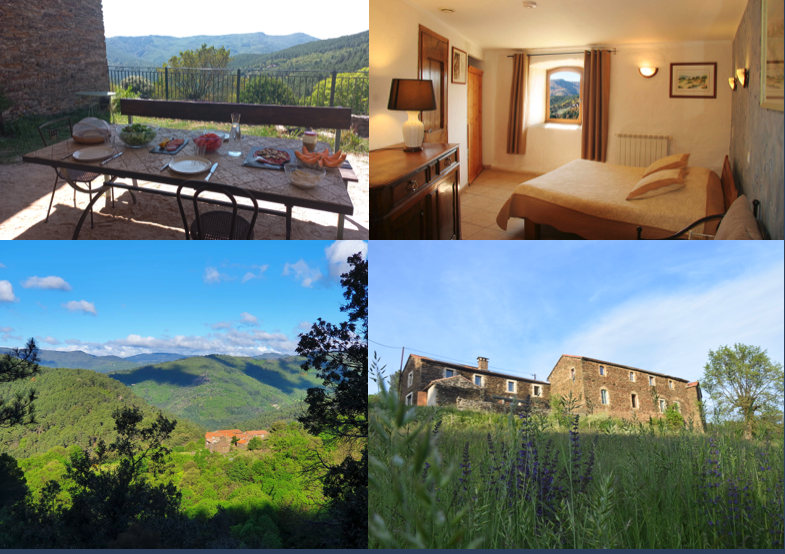 Arrival : Sunday 10 April | 18h onwards
Departure : Friday 15 April | Anytime after our farewell lunch

Arrival on Sunday includes a light dinner and gentle settling in with a Sound Bath.

There is the possibility to stay over the weekend as Maison d'Hôtes after the retreat.
Place: Lou Rey, Eco Lodge
Instagram : loureyecohameau
Early Booking before 28 February :
Normal Price after 28 February :
If you have any enquiry about the accommodation, please contact us at Lou Rey.
Accommodation.
Welcome dinner.
Departure lunch.
3 delicious vegetarian/vegan meals a day.
All beverages (non-alcohol).
All ceremonial materials and teachings during the Holy Days.
Flight to/from France.
Transportation to/from location.
Coordinating transportation : Gare Sainte Cécile d'Andorge, 12 minutes from Lou Rey. (Vient directement de Nîmes)

Food allergies and intolerances : please let us know upon registration
Xavier-Ferdinand Guyard +33 6 35 23 83 63 and Chloé Moulin +33 7 82 72 73 30
Group size : 15 participants maximum.
Deposit : 30% booking deposit*
Rest in cash, secure payment link or Paypal**
* Non-refundable deposit.
**Paypal instalments will be charged an extra 4% to cover Paypal's commission

SECURE YOUR SPACE NOW : CONTACT
Xavier-Ferdinand Guyard +33 6 35 23 83 63 and Chloé Moulin +33 7 82 72 73 30